Class Projects
About LAES Projects
The LAES curriculum allows students to mix computer technology and media, providing them with the opportunity to work on a wide variety of interdisciplinary projects. In addition, field trips to media businesses help establish relationships and provide insight into potential career paths. 
The SOS Project (2016-2017) 
---
Project Goals: The Sense of Safety Project was designed as a means of starting a dialogue about gun violence in the US. Visitors were asked to respond to the question, "How safe do you feel at Cal Poly?," by leaving a thumbprint on the appropriate panel. 
Project History: The SOS Project was built in response to the 2016 Pulse Nightclub shooting in Orlando, and featured an arc of linked plexiglass panels, each comprising a different 2-year period (from 2004 to 2016). Each individual panel was pierced by a number of holes, every hole representing a school shooting that had occurred in the U.S. during the given time period. Visitors were encouraged to contemplate and discuss how gun violence had impacted their lives. Written on the inner panels was the question: "How many school shootings have there been in America during the last twelve years?" The answer was shocking to many: More than 300 school shootings in just a twelve-year period. 
SOS installation on display at Dexter Lawn, Cal Poly SLO campus
---
Escape Room Project (2016-2017)
1st Annual San Luis Obispo Mini-Maker Faire (2013-2015)
---
The Mini-Maker Faire is a celebration of local, hands-on learning and sustainable technology development.
Captions:
Project Goals: This highly successful community event, connected to an international movement of DIY- and STEM-related design fairs that are supported by MAKE magazine and the MAKE Community Development Group, attracted more than 2,000 visitors to downtown San Luis Obispo.
Project History: Working in collaboration with the San Luis Obispo Museum of Art, a consortium of K-12 STEM educators, faculty from the Cal Poly College of Engineering (especially Dr. Kathy Chen from Materials Engineering), SLO city planners, local commercial partners and sponsors (including iFixit), and with Dr. Thomas Fowler and his architecture studio students, the LAES program and the Center for Expressive Technologies provided the technical, planning, and site management support to run the first ever Mini-Maker Faire for the City of San Luis Obispo in spring 2013.
Pop-up 2: For eight months prior to opening day, we worked with the Mini-Maker Faire planners on every step of the process, including designing and building the central structure for the faire (a tent-like information booth made out of re-purposed plastic bags), planning the footprint for the booths on the plaza, arranging the technical support for the event, and coordinating the (volunteer) support staff and management for the faire. The event was so successful that the LAES program and CET went on to sponsor and assist in running its next two iterations with the City of San Luis Obispo in 2014 and 2015.
Learn more about Maker Faires (links open in new windows):
PolyXpress - Re/Collecting Project (2011-2014)
First Ethnographic Archival Collaboration with the Cal Poly Department of Ethnic Studies
---
The Re/Collecting Project uses digital media to preserve and disseminate the stories of under-documented communities along California's Central Coast.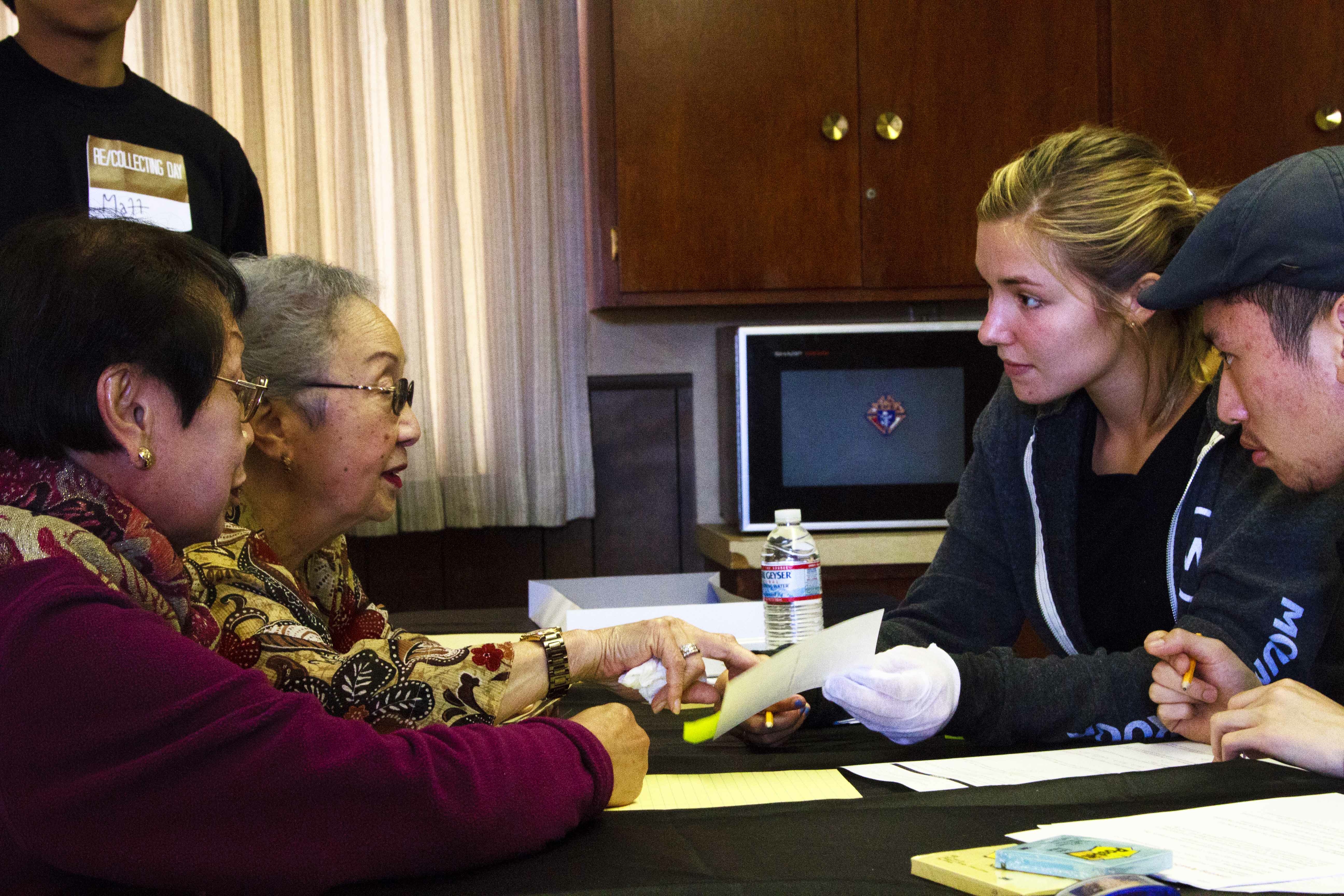 Captions: 
Project Goals: Expanding community storytelling through portable computing. Our collaboration will allow community members to record personal stories of their towns, homes, and families that can be played back in the locations these          stories occurred, years (even generations) later.
Pop-up 1: PolyXpress stories can be expanded and updated at any time, as quickly and as easily as pasting new text into a word processing document. Because it is a web-based application that can be used on any device that accesses the Web, no specialized hardware or equipment is necessary. All that PolyXpress requires is a desire to tell a story, and a creative concept for how to engagingly connect that story with site-specific, real-world locations.
Project History: In 2011 LAES students and faculty began working with Dr. Grace Yeh (Cal Poly Department of Ethnic Studies) to provide technical support for her "Re/Collecting" and "Love, Labor and Filipinas" projects. For 15 months Dr. Yeh worked with LAES and Ethnic Studies students to record interviews; digitize photographs, documents and artifacts; and host community events and public programs about the experiences of the local Filipino American and Japanese American communities.
Pop-up 2: We helped Dr. Yeh produce a series of site-based "Remembrance Days" around the Central Coast, during which she recorded many of the area's Filipino American and Japanese American residents as they told their family histories, stories, and memories. We were also able to scan family photos and documents to be included in the Omkea database that Dr. Yeh built for her research.
While working on the Re/Collecting process, we also organized the collection of geo-spatial and time data to be recorded with every object, so it could be tagged and incorporated into the next iteration of the PolyXpress system. Addition of this extra layer of data allows for the creation of an interactive exploration of the database data by using PolyXpress to visit the sites referenced in the photos and video, thereby allowing participants to hear and see the recollections while visiting the location in question. The first working prototype of PolyXpress integrated with the Re/Collecting database for the Pismo Beach area went live in spring 2014.
Learn more about the PolyXpress Re/Collecting project (links open in new windows):
8 (2013)
 First Community Theater Production Collaboration with PFLAG 
---
This performance was part of a series of productions throughout California to help educate communities about the issues surrounding Proposition 8 and to raise funds for a statewide anti-bullying campaign.   
Captions:
Project Goals: The rapid creation of immersive theatrical space and interactive audio re-combination to enhance the experience of a live theatrical performance.
Project History: In summer 2012, Dr. Anderson (Cal Poly Department of Theatre and Dance) asked us to collaborate with her on a community-sponsored, readers-theater production of "8," to be held at the Spanos Theater for a one-night performance sponsored by PFLAG (Parents Families and Friends of Lesbian and Gays) and a number of other community LGBTQ support organizations.
Pop-up 2: Working with Kris Gottlieb (the show's producer and the local director of PFLAG), Dr. Anderson, Tyler Whipple, and our program designed a video DJ system to create interactive projections that would situate the show in a California courtroom, and then switch occasionally to a "live" news video projection. We also designed the interactive-mix audio system that was used outside the theater pre- and post-show to simulate the experience of walking through an extremely vocal crowd of pro-Proposition 8 protestors (including violently anti-gay protestors). To create the audio mix, we worked with a group of LAES and Media Arts students to sample and reassemble voices and sounds from hundreds of videos collected from anti-gay and pro-Proposition 8 protests from all over California. All media elements created for this work were distributed to other productions so they could be used throughout California in the weeks that followed. 
Learn more about PFLAG SLO (link opens in new window):
https://www.pflag.org/chapter/pflag-san-luis-obispocentral-coast
The Center for Expressive Technologies (2010-2013)
---
Creation of a full research and development center for expressive technologies at Cal Poly.

Caption: 
Project Goals: To extend the interdisciplinary project development process beyond the LAES program by developing a collaborative organization that could share the benefits of this work across the Cal Poly campus.
Pop-up 1: Another goal was to better focus and channel fundraising for media-related technology design work on campus into a single group of cooperation and control.
Project History: Beginning in August, 2010, the LAES program created a working group on campus called the Expressive Technology Studios Group. Dr. David Gillette (LAES co-Director) led this collaborative team of faculty, administrators, students, and commercial/community partners through a series of interdisciplinary arts and technology projects, expressive technology design workshops, interdisciplinary storytelling and ethnographic recording course modules.
Pop-up 2: Their work also included a series of community media and technology development projects with the cities of San Luis Obispo, Arroyo Grande, Pismo Beach, Santa Maria, Oceano, and Avila Beach. Commercial and community partners included the San Luis Obispo International Film Festival, the San Luis Obispo Museum of Art, the San Luis Coastal K-12 School District, the Pageant of the Masters (Laguna Beach), DTS, Animation Studios, ConsciousBuild, the San Luis Obispo Housing Authority, New Times SLO, and a number of local arts and education collaborative organizations.
Learn more about The Center for Expressive Technologies (link opens in new window):
PolyGhost & "Look the Other Way" (2011)
First Interactive Archive/Mobile Game Design Collaboration 
---
The goal of this interactive exhibit was to encourage visitors to think more carefully about the history of photography, its common association with the sense of "spirit" in narrative, and to reconsider the meaning of "truth" and "fiction" as part of the archival collection and display process.     
Captions:
Project Goals: Creation of a handheld, GPS-assisted, computer-driven platform-agnostic storytelling system for viewing an interactive ghost story. Site-specific to multiple San Luis Obispo locations, real photos taken by local photographer Frank Aston (1908-1947) have been integrated into the system for added authenticity.
Project History: The first iteration of PolyGhost was a 3-month interactive exhibit in conjunction with Cal Poly's Kennedy Library and Special Archives. The exhibit displayed the Archives' collection of Frank Aston's original work, his glass plate negatives, and a number of Cal Poly's foundational documents.
Pop-up 2: These historical objects were then combined with a fictional history that was created in collaboration with students from Media Arts, English, and the LAES program. This exhibition was called: "Look the Other Way," and featured twelve interactive digital and analog exhibits that we created.  We also designed an interactive game structure that began with the exhibits, led participants into the library stacks for more information (through clues hidden in our re-created card catalog), and then directed them to various campus locations.
To facilitate these outside-the-library story experiences, we worked with Dr. Michael Haungs to build the first iteration of the PolyXpress system (then called the PolyGhost system). A large number of LAES, English, and Media Arts students created additional backstories for the "Look the Other Way" exhibit and PolyGhost system, and a number of Dr. Haung's graduate Computer Science students developed the first working prototype of the PolyGhost software.  We designed the initial interface for the system to look and function like a type of "ghost-inhabited" daguerreotype print inside a wooden, palm-sized case. This design, while effective with users and pleasing in appearance, also proved to be extremely difficult to maintain across platforms and software versions and so has now been set aside until the entire software development process is complete. The daguerreotype interface, however, does successfully demonstrate the connection between the PolyGhost stories and the history of media use and development.
Learn more about --- (links open in new windows):
The Orchesis Dance Company in "Shift" (2011)
First Dance Collaboration with the Cal Poly Department of Theatre and Dance
---
The creation of an immersive dance space using interactive screen-based design to represent embodied media, in which the screens become dancers and the dancers become screens.
Captions:
Project Goals: The primary concept of the media construction was for the 22 dancers to serve as a form of embodied media, with the dancing images moving from the screens directly onto the dancers themselves.
Project History: The final performance was a thirteen-minute modern interpretation of tango, with screens suspended above and behind the dancers. A video triptych of the dancers dancing in a wide range of venues was projected onto the screens, all of which was pre-recorded and mixed live to interact with the dancers on the stage. We used performance tracking systems, heart-beat monitors, and extremely flexible projection screens that the dancers could wear during the performance.
Learn more about the Orchesis Dance Company's "Shift" (links open in new windows):
Julius Caesar (2010)
First Theater Collaboration with the Cal Poly Department of Theatre and Dance
---
Reinterpretation of Shakespeare's Julius Caesar to make it more relevant for 21st century audiences via the creation of windows into new, dynamically changing spaces and narrative contexts that would not normally be possible to produce with standard theater scenery and backdrops.
Captions:
Project Goals: Use the play to comment on the way modern visual and broadcast media separates important events from their original contexts and recasts them in fragmented pieces of argument that can be used for both positive and negative purposes.
Pop-up 1: Design of an overall approach to the use of technology in the production that would be technically and artistically seamless, while exploring a variety of new methods for using motion on the screen to create a sense of depth and immersion for the actors and audience members. Manipulation of the illusion of depth and space created by the cinematic presentation of motion on two-dimensional screens—screens that would also be physically sliding and shifting across the stage.
Project History: Working with Dr. Josh Machamer and Dr. Tim Duggan, we once again utilized the embodied media concept by combining the movement of the actors on stage with the movement of the screens containing live video projections of the actors as a type of meta-reference to onscreen motion being more "realistic" (due to its large size) than the actual movement of the actors on the stage.
Award(s): Our team's work, including that of Dr. Machamer (Director) and Dr. Dugan (Lighting Designer), was awarded the Kennedy Center American College Theater award (KCACT, Section 8) for special achievement in technical theater.
Learn more about our production of Julius Caesar (links open in new windows):
The Housing Opportunities through Modular Environments (HO:ME) Project (2009-2010)
First Building Project for the City of San Luis Obispo
---
The (HO:ME) project was developed to provide sustainable housing for low-income individuals in San Luis Obispo County.
   
Captions:
Project Goals: Design of 18 single resident occupancy (SRO) living spaces along with a new office building for the Housing Authority of the City of San Luis Obispo. To achieve these sustainable and affordable living units, HO:ME proposed the use of recycled industrial shipping containers.
Pop-up 1: The ultimate goal of the documentation work was to create a model for how this type of successful building collaborative could be replicated in other communities around the US and abroad, with an emphasis on the efficient reuse of materials built upon the benefits of having a university system (its students and faculty) working directly with local government to improve the community in which everyone lives.
Project History: Starting in Fall 2009, Dr. Thomas Fowler and Dr. David Gillette made the HO:ME project one of the central teaching and development projects for their Architecture and LAES courses. More than 100 students worked on it during the 2009-2010 school year, including students in Architectural studio courses, Media Arts courses, and interdisciplinary courses for both the College of Architecture and the Liberal Arts and Engineering Studies program.  
Pop-up 2: LAES students carried forward the ongoing documentation of the project, focusing on the construction materials involved, the political and social management issues associated with developing the project in a public context, and continued to help organize and fine tune the collaboration between the city, the university, and the builders.
Award(s): In 2010, Dr. Fowler (Architecture) and Dr. Gillette (LAES co-director) were awarded the Cal Poly President's Award for Service Learning for their work directing and developing the HO:ME project for the City of San Luis Obispo.
Learn more about the HO:ME project (links open in new windows):
"Intimate Transactions" at the Beijing Olympics (2006-2008)
First International Collaboration 
---
"Intimate Transactions" is a type of electronic art form called "embodied interactive media." Dr. Keith Armstrong and the LAES program hosted an American-interaction-node during the first ten days of the Beijing Olympics' arts show in June 2008.
    
Captions:
Project Goals: One of the central objectives of "Intimate Transactions" was to help participants think in new ways about the connections between their bodies and how they communicate through movement. The work also sought to encourage participants to connect this embodied media communication process with the basic tenets of social collaboration and the sustainable use of resources.
Pop-up 1: This first collaborative project established the iterative design model for many of the LAES collaborations that would follow. This process also proved to us that by using the interdisciplinary resources of Cal Poly and the project-based learning teams from the LAES program, we could create a reliable (if continually shifting) technology development team that could support ongoing creative design research and development work creating and experimenting with new theatrical and interactive storytelling technologies.
Project History: For the first ten days of this international electronics arts show (5 hours every day) a small group of students in our then fledgling program at Cal Poly provided the only open Internet video/audio link between thousands of Chinese and international visitors at the National Art Museum of Beijing, as well as approximately 50 visitors a day to our site at Cal Poly.
Pop-up 2: "Intimate Transactions" used the Internet and motion sensors hidden in a chair/table to track the motion of the work's participants, who lay back on a large chair/table system. The motion of each participant's body (the motion of their upper and lower torsos, and the motion of their feet) controls an abstract, ghost-like avatar projection of themselves that interacts with other objects on a large screen. It also mixes an immersive sound field that surrounds the participant with a ring of thirteen speakers, one low-frequency speaker the participants wear on their stomachs, and another speaker mounted into the motion tracking chair/table itself. The sound field allows participants to feel the movement of the work's other participants, who are connected at the opposite end of the system. Using the motion of their bodies as well as the visual and audio guides they receive from the screen and the speakers, the participants (strangers located in different cities or countries) eventually learn to collaborate and move together.
Learn more about "Intimate Transactions" and embodied media (links open in new windows):
Related Content